This Mama is busy with teaching, workshops and planning my cooking camp (1st session sold out! 1 space left in 2nd session), so excuse the very short post here, but I wanted to make sure you had some easy healthy ideas for Mother's Day.
I'm HUGE on brunch, but how can you NOT consider making Mama Soup, on Mother's Day? If you aren't familiar with this hit (Thanks, Mom!) see my Jewish Food Experience article about it, including the recipe.  My mom says she called it Mama Soup because my twin sis and I couldn't say Vegetable Lentil Barley Soup. I think it's brilliant! My campers and guests love when I make it!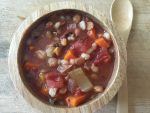 Keeping up with the healthy, yummy Mother's Day theme, you can use Letter Cookie Cutters to spell M-O-M using melon.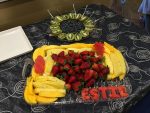 You can also buy a dollar store egg platter (or click on link below) and decorate it with fruit instead of eggs. Don't forget the baby spoons!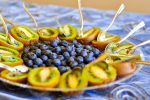 Whatever you do, don't forget to add the fruits and veggies to your meal!