Every year on Passover, I longingly watch everyone else eat matzah with cream cheese and jelly. I know that because the packaged vegan cream cheese is not kosher for Passover, I will have to wait until afterward Passover to eat my vegan cream cheese and jelly on matzah. Sigh….
As the seder asks, What is different on this night? How about, What is different this Pesach? I will be eating my vegan cream cheese and jelly on matzah ON Passover! Of course this doesn't only benefit vegans. There are lots of people (especially Jews) who are lactose-intolerant and they deserve to eat cream cheese and jelly on matzah too!
I've never been successful with homemade cream cheese recipes, but this one from Chocolate Covered Katie was a winner.
I LOVE www.chocolatecoveredkatie.com. She is my go to for baking recipes that are vegan and often gluten-free or use spelt flour instead of regular wheat. When her recipe for vegan cream cheese came into my inbox, I had to see if it would work for Passover. And it does!
Ingredient list without chometz or kitniyot? Check!
Easy to find ingredients? Check!
Delicious? Check!
Customizeable? Check!
In addition, using this recipe let me sneak in one of my healthy food tips!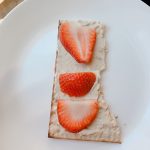 What's my healthy food tip? And this goes for all year round…even on bread…
Use the real berries instead of the jelly or jam. If the berries are fresh, this is more delicious and filling than using regular jelly. I have done this with Strawberries, Raspberries, and Blackberries. For Raspberries and Blackberries, I smush them down a little onto the cream cheese. But wait, there's more!
Here are all the benefits to using berries instead of berry jam or jelly on your cream cheese (on matzah or bread):
Prettier
More Fiber (and therefore more Filling)
Less added sugar
More intense flavor
See below for some of the ingredients (You may not be able to see if viewing this blog post in your email, rather than in your browser).
I believe Trader Joe's and Costco's RAW cashews are considered approved for Passover by the Rabbinical powers that be, but always check your own sources.
Vegan Cream Cheese Recipe
Ingredients
1 1/4 cup raw cashews or macadamia nuts (150g)
1/4 cup water OR nondairy yogurt
1 1/2 tbsp white or cider vinegar
salt (start with a half teaspoon and see depending on your tastes and if you are making any specific flavored cream cheese.)
My experience: I tried it with Macadamia nuts first and didn't love it, but that could be because I don't love Macadamia nuts. Then I used cashews with a half teaspoon of salt, water, and apple cider vinegar. I specifically did not try this recipe with non dairy yogurt because I know that won't be available on Passover and my whole point was to see if this would work for vegan cream cheese on Passover.
For instructions, and customized options, here is the link to Chocolate Covered Katie's complete recipe (Pardon the bagel picture!).
Happy Matzah, Jelly and Cream Cheese Eating!
For lots of other helpful Passover tips, click here and read previous Passover blogs.