This post contains affiliate links.
Did you know you can make a vegan omelet using chickpea flour? Here is a classic example of how eating a whole foods, plant-based diet is a win-win. First, beans count as a veggie and a protein (and fiber!). In addition, you don't have to have the back and forth with yourself about whether eggs are a source of bad cholesterol or good protein. You get protein, nutrients, and fiber in one package. There is no reason not to replace your egg omelet with this delicious chickpea flour option.
I will show you how to make an eggless vegan omelet and vegan egg and cheese sandwich. Treat yourself to healthy energy this Mother's Day with the vegan omelet recipe. 
Despite the McDonald's commercials telling us it's just not the same to make an Egg McMuffin at home, I have always loved homemade Egg McMuffins (I also keep kosher and don't eat at McDonald's…but that's beside the point!). When I became vegan I definitely missed my homemade egg and cheese sandwiches.
For all my vegan or egg-allergic friends, this eggless vegan omelet recipe is just what you've been waiting for! You can make the eggless vegan omelet with or without cheese and you can put it on an English muffin, toasted bread or a bagel, with cheese, veggies, and vegan sausage.
Step 1. Make the omelet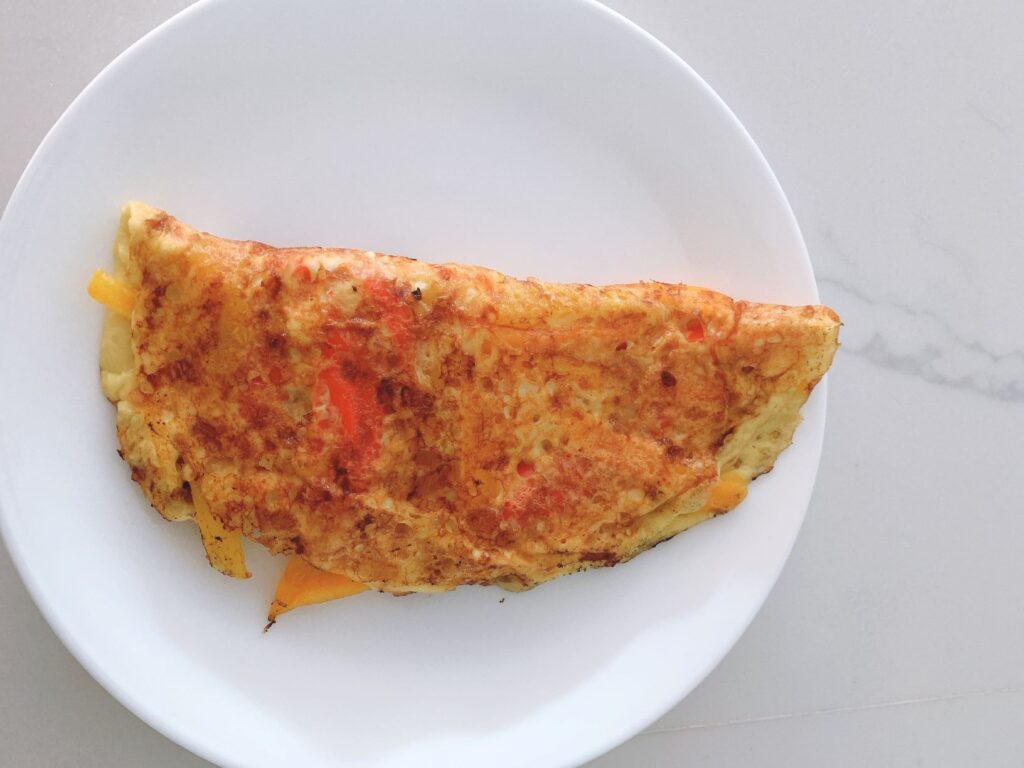 Mix up your batter and decide if you're going to make a vegan cheese omelet or just a plain vegan omelet. See the directions in the recipe below for both methods. If you add cheese you'll have to fold it over the cheese and then let it finish cooking.
My favorite vegan cheese to use for vegan omelets and egg-free egg and cheese sandwiches is Follow Your Heart American and Smoked Gouda slices.
If you're not adding cheese, you can also flip (and not fold) your plain omelet and you will end up with a whole big circle of vegan omelet.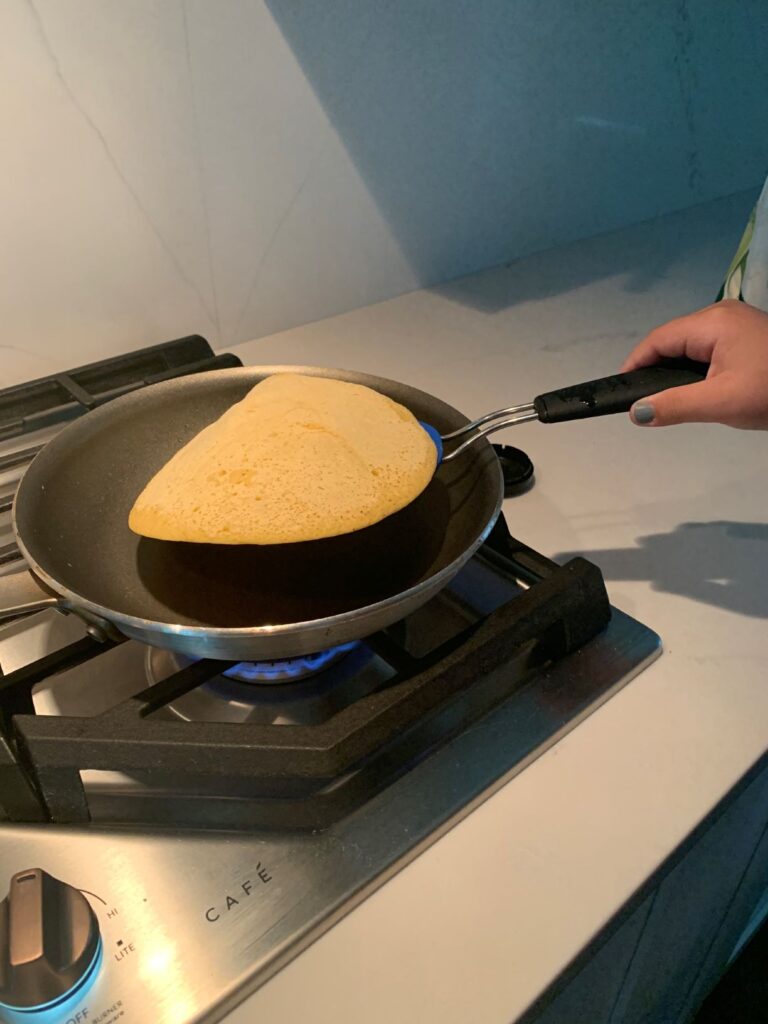 If you're not making a sandwich, you can still add some sautéed veggies and a grind of Hawaiian Black Salt to the top and serve it hot. In the top omelet picture I've put some sautéed peppers inside the omelet, but I do generally prefer to simply put them on top at the end.
Step 2. Make your sandwich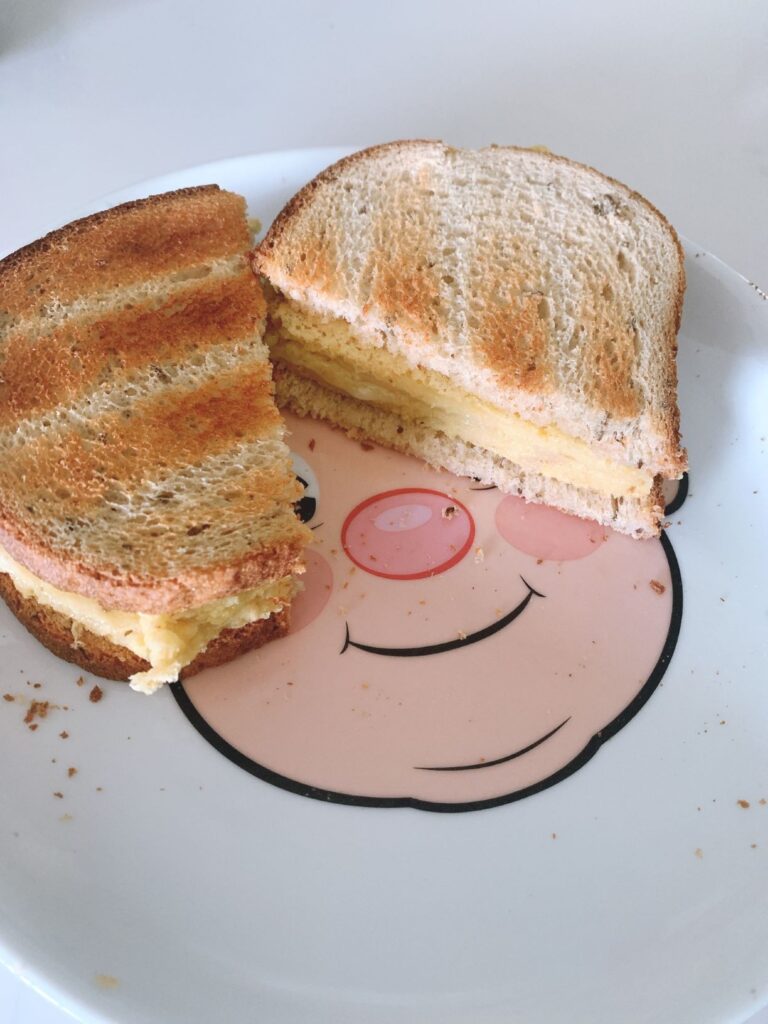 If you choose to make a sandwich and you've made the big circle of the plain omelet, then you can cut it in triangles, squares or circles and put it on toast, an English muffin or a bagel. You can add cheese, sautéed veggies or vegan sausage at that point. If it is already a cheese omelet, cut it to fit your bread, add sautéed veggies and vegan sausage, if using, and you're ready to go.
The eggless vegan omelet comes together so quickly that you can make personalized omelets for everyone at your breakfast table.
Happy Mother's Day!
Please see below the recipe for additional healthy and fun Mother's Day ideas.
Print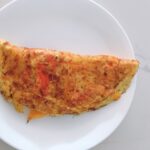 Eggless Omelet, Vegan Egg Sandwich
---
Author:

Natasha

Total Time:

10 minutes

Yield:

1

serving

1

x

Diet:

Vegan
Description
Make a plant-based, vegan, healthy and delicious version of the classic egg and cheese sandwich, at home.
---
1/3 cup chickpea flour
1/4 tsp baking powder
1/4 tsp Hawaiian Black Salt or Indian Black Salt (Kala Namak) (or regular salt)
1/8 tsp Black Pepper
1/2 cup non-dairy milk (plain, unsweetened) OR water
Optional: Sliced bread or English Muffin, Sliced Vegan Cheese (American/Cheddar/Smoked Gouda), Sauteed veggies, vegan sausage patty
---
Instructions
Place dry ingredients in a small mixing bowl. Mix well. Add liquid and mix well. A small silicone whisk works well for this. Heat 8 inch non-stick pan on medium heat. Spray with olive oil if it isn't a great non-stick pan. Pour batter into hot pan and spread it around quickly to cover the whole bottom of the pan.
Let cook about 1 1/2 minutes. Place cheese (if using) on half of omelet surface and flip one side over on top of the cheese. If not using cheese you can also choose to flip the entire circle over to make a thinner omelet that can be cut into squares or circles if you are making a sandwich. Cook approximately 1 more minute and remove from heat using a spatula.
If making a sandwich, toast your English muffin or sliced bread. Add cheese, sauteed veggies, or vegan sausage patty if using on top of bread. Add omelet and serve hot. You can microwave the sandwiches for 15-30 seconds before serving. 
If not making a sandwich, top with sautéed veggies, a grind of Hawaiian salt, if desired, and serve hot. 
Equipment
Notes
Most vegan recipes for eggs using tofu or chickpea flour call for Indian Black Salt (Kala Namak). It has a sulphurous taste to it that can make a vegan dish taste more like real eggs. I actually find it a bit overpowering and prefer the taste of Hawaiian Black Salt in my vegan egg dishes. I've given you links for both. 
Nutrition info includes only the ingredients for the omelet (no cheese, veggies or bread) and assumes you use water as the liquid.
Prep Time:

5 minutes

Cook Time:

5 minutes

Category:

Breakfast

Method:

Stovetop

Cuisine:

American
Keywords: Vegan Eggless Omelet, Chickpea Flour
Explore my previous Mother's Day Blog Posts with many creative, healthy ideas for a plant-based Mother's Day.
3 Healthy Mother's Day Ideas (2019 post)
Mother's Day Strawberry Shortcake Pancakes (2018 post)
Your Healthier Mother's Day Menu (2017 post)
5 ideas for Mother's Day Brunch (2016 post)
7 ideas/recipes for Mother's Day (2015 post)