Printable Passover Guide
Looking for plant-based Passover recipes, tips and tricks? These are truly the simple, healthy, and delicious recipes and strategies I will use for my own family. Maybe you're trying to accommodate a relative or help your relatives accommodate you? It's all in the Jews Eat Veggies Printable Passover Guide. Included: The #1 viewed recipe on the Jews Eat Veggies website. Open and print now!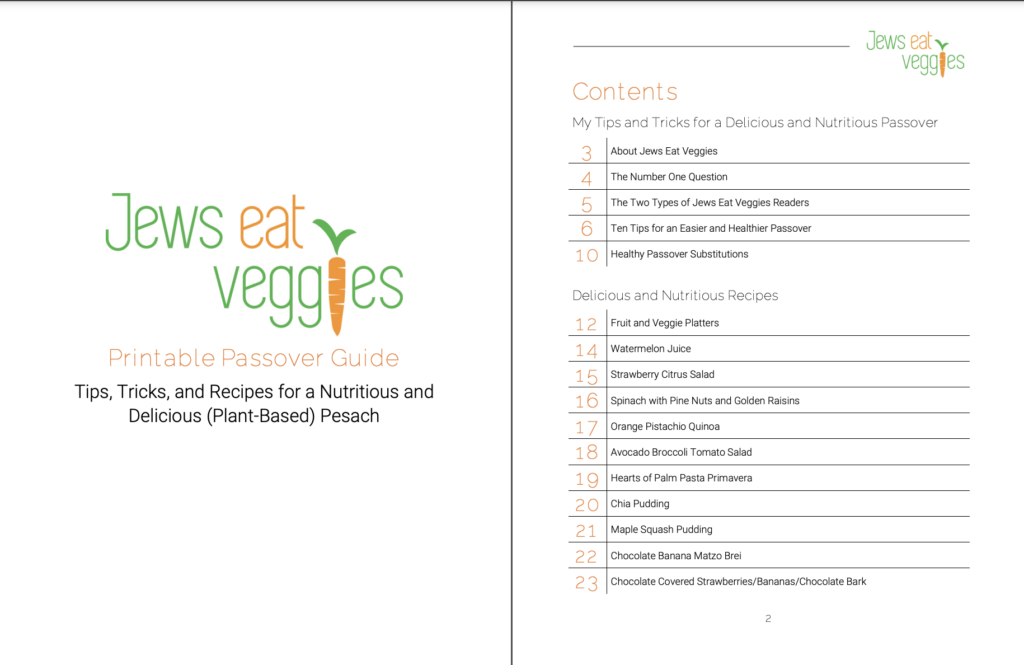 If you are looking for a few quick and dirty healthy tips, here they are!
Healthy Pesach Tips
#1 When in doubt, don't make it a kugel! Just eat fruits and veggies! Roast carrots with orange juice or bake apples or sweet potatoes with a little cinnamon. No need to add eggs, sugar and matzo meal. Think of this week as a spa detox, not an excuse to eat boxes of processed food or add eggs and sugar to every fruit and vegetable.
#2 Only eat one big meal per day. Going out for dinner? Don't go out for lunch too!
#3 Don't even bother buying the gross Passover jelly. It's all sugar and pectin, with barely any fruit. Use sliced fruit on top of your cream cheese and matzah. Place thinly sliced strawberries in neat rows or a pretty pattern. Make it gorgeous and impress your family.
#4 Start every meal with a green salad. While you're at it, make your own dressing. Don't buy bottled dressing made with cottonseed oil!
#5 Snack on fruits and vegetables.
A Final Tip for your Future Self
Finally, I recommend you do your future self a favor. Write down all the tasks that go into making Pesach in your house and when you need to accomplish them (Even if you didn't do so at the ideal time this year!). Next year it will be a lot less overwhelming if you have a week by week list of tasks. If you don't have to start thinking of all the tasks, you'll have more of a chance of starting on time and pacing yourself next year.
Enjoy these healthy Pesach tips. Have a happy, healthy, kosher Pesach.