I haven't published a complete manifesto yet (I mean, besides my books!), but many of you know it is my mission to change how we think we have to feed one another. Our friends and family, 95% of the time, will be thrilled when we don't over-stuff them or give them tempting foods they'd rather avoid. Of course there is always a place for birthday cake, etc…(with NATURAL food coloring of course!).
As an example of this, as promised and explained last week, here are the results of my healthy Purim efforts, which are also healthy snack and hostess gift ideas to inspire you, regardless of whether you ever celebrate Purim. And if you do-to help you all year round, not just on Purim. Keep reading!
We only made a few small mishloach manot for people not on the community list, but they were a hit. I thought the Mary's Gone Crackers Pretzels and Dipin Olive Tapenade were quite sophisticated and different…if I do say so myself. 🙂
My son's teacher said that I made the best healthy mishloach manot she'd ever seen. The kids couldn't wait to open them! [Insert throat clearing here…] What do you know? Kids can be excited by food that isn't candy!
I'm giving you links in case you want to have these fun and healthy snacks around.
We always give a few bigger packages, mostly to family. I was worried this rainbow veggie tray might be too simple, but it was greatly appreciated and gobbled up by all who received one! I was told it was the only mishloach manot one person could eat because of their restricted diet. Another person said, "Leave it to Natasha to give us fruits and vegetables we've never seen before!"
My rainbow veggie tray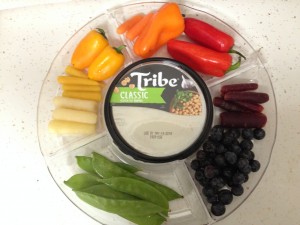 [For the record, those are yellow, orange, white, and purple baby carrots; red, orange and yellow baby peppers. In my area, you can find rainbow carrots – whole, baby and shredded(!) – at the Giant, Trader Joe's, and Mom's Organic Market. I assume Whole Foods also sells them but I don't know for sure.]
I tell you all of this to show how happy people are when they receive healthy food.
Keep reading for where to purchase these amazing trays!
Here's a picture of them stacked up – easy to stack and store.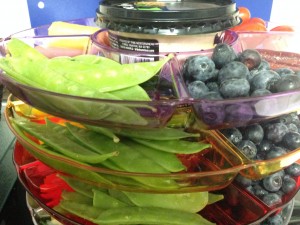 The Press n Seal Saran Wrap was perfect!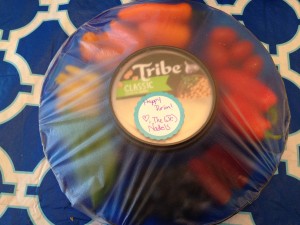 These are what I used for my big healthy Mishloach Manot above.

Ideal both for this purpose and as a hostess gift where you can bring healthy food and also leave the tray as a gift. I have friends where I know that if I don't bring a salad, there won't be one. This is even better! It looks great, doesn't seem pushy, and is truly a helpful addition to any party or meal.
I've been looking for alternatives to the tray I always show my workshop participants. I use it for veggies every week (for Shabbat lunch or whenever I have company). Unfortunately, Crate and Barrel doesn't make it anymore. The fun ones above that are cheap enough to leave with friends can also be reused in your own home. Let your kids pick their favorite color and set up the tray for the whole family.
For times when I know I can easily take my platter back…like when visiting family, I purchased this Five Section Serving Tray w/ Locking Lid & Handle. It is more easily transportable than my current platter with saran wrap on top.
If you are looking to spread raw veggies around your neighborhood, I encourage you to consider purchasing these fun trays. It does help make it happen (especially if your kids get to fill it themselves). I've been looking for something to recommend to my peeps since Crate and Barrel stopped making mine, so I'm thrilled to have these links for you.
**FYI, if you purchase through my links, I do earn a small commission. I decided to do it this way simply because it was actually the easiest way to provide you with the information and a quick way to make the purchase. Of course I also appreciate the support of my efforts to help everyone feed their family well, simply and sanely! Just like it says in the books! Let me know if you have any questions about this or anything else.
Okay, Purim is over…who's ready for Pesach? :)-
I'll be back with more on that soon!