[AFTER A FEW WEEKS OFF, I'M MAKING UP FOR IT THIS WEEK. I KNOW YOU'RE BUSY BUT YOU'LL BE HAPPY YOU READ THEM ALL!]
Last year Black Friday bled into Thanksgiving Day and this year it essentially began on Monday of Thanksgiving week. The following week we can look forward to Cyber Monday and Giving Tuesday. That is the American order. "After you feel guilty for your gluttony, please give to charity." But in my world, Jewish values tell me that giving charity (tzedekah) comes way before buying tchotchkes. Whatever faith you are or are not, I'm confident that my readers agree with me.
The Friendship Circle
Many of you remember that last year I walked the Miami Marathon (but only half!) for the Maryland chapter of Friendship Circle, a non-profit devoted to providing friendship, fun and community for children with special needs. I am not only walking again this year (Click here to see my personal fundraising page and decide if you'd like to donate to this great cause.); yesterday I had the pleasure of leading one of my Fruit Funshops with the Friendship Circle participants and volunteers.
Here are a few pictures.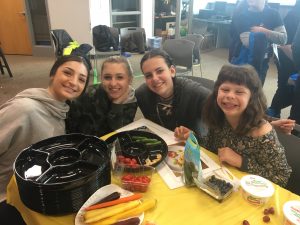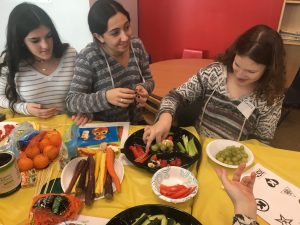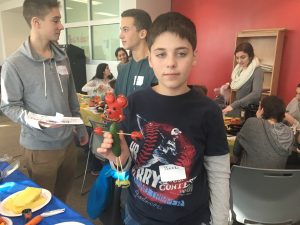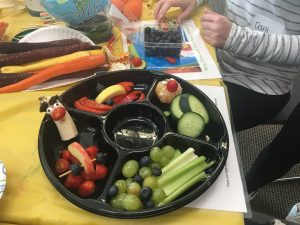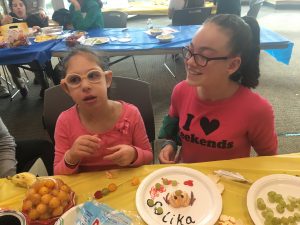 For your own Fruit Funshop, be in touch! natasha@healthyfamilyhealthyyou.com
I hope you will consider giving to The Friendship Circle today, this Tuesday, not next week during the nationwide Giving Tuesday. Let's send a message that charity comes first– before shopping. Thank you in advance for your generosity. Every dollar counts!
December 13 Fundraiser
In addition, if you live in the DC Metro area, come to Max's restaurant on Tuesday, December 13. I'll have a table set up there. Simply give me your meal receipt (or just the total) and 10 percent will go to The Friendship Circle. In addition, no pressure, but if you didn't want to charge your contribution online, you can write a check or give cash and put it directly into The Friendship Circle lockbox.
I look forward to seeing you there!