This post contains affiliate links.
Everyone can find an excuse to celebrate chocolate, right? Why not make it a healthier, vegan chocolate recipe?
(Note that if you are looking at this in your email, you may need to "view in browser" for all images to appear)
I know many of my readers do not celebrate Valentine's Day, and I actually don't either. However, I do enjoy the plethora of chocolate recipes this time of year.
I usually buy Enjoy Life chocolate chips. (Click on these links or pics below to purchase. You can also get them at your local health food store and sometimes the "natural" aisle at the regular grocery store). They come in semi-sweet chunk and mini chips; dark chocolate mini and dark chocolate morsels. They're non-dairy and made in a nut and gluten-free facility. (If you have an ad blocker on, or are in your email – not your browser-, you might not see the photos below).
I came across this recipe for 4 Fruits Bark when I was looking for Tu B'Shevat activities for my weekly 2nd-5th grade cooking class.
http://www.chaiandhome.com/tu-bshevat-craft-4-fruits-bark/
This next recipe for raw chocolate caramel dip from Forks over Knives looks amazing and I plan to try it out this Shabbat. Caveat: I don't know that this would work without a high-speed blender. I don't know that it wouldn't…but just sayin' that having a Vitamix is one of the best things that's ever happened to me. 🙂 The one I have is this CIA Series. That's Culinary Institute of America to my peeps in DC, not THE CIA! It's a little bit less expensive than some of their other models. However, there aren't any drawbacks to its use that I'm aware of.
Live link: https://www.forksoverknives.com/recipes/raw-chocolate-caramel-dip-recipe/
Archived link: 'Raw Chocolate Caramel Dip Recipe' – www_forksoverknives_com_recipes_raw-chocolate-caramel-dip-recipe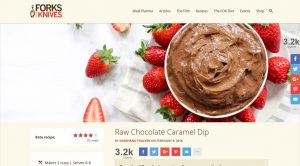 I know it's not chocolate…but it will make you happy anyway! This next smoothie is the prettiest you'll ever meet! Tasted so bright and happy too. Seriously! Pitaya is a name for Dragonfruit. Many of us bought fresh Dragonfruit for a new fruit this past year for Rosh Hashanah. Just a tip: You are supposed to eat the black seeds, along with the hot pink flesh. Pitaya also comes in smoothie packs just like Acai. This is definitely your best bet for price and freshness. You can find them in the freezer section of health food stores. I received this recipe as part of Kimberly Snyder's Valentine's Day email.
http://kimberlysnyder.com/blog/2017/02/12/pitaya-sweetheart-smoothie-recipe/
Now, back to chocolate! My daughter loves to make chocolate covered strawberries. This is even easier! Chocolate candy using an ice cube tray with fresh Pomegranate seeds. I think it is in the same family as the chocolate bark, but a different way to impress yourself, your family, your guests…whomever! My girl, Chocolate Covered Katie, always comes through. Just try not to spend an hour on the Chocolate Covered Katie website. I dare you!
We actually have a heart shaped silicone ice cube tray that I have used to make heart-shaped watermelon ice cubes for lemonade and also just put melted chocolate into it and let it solidify. Hmm…I wonder how that would taste with freeze dried fruit or acai powder mixed in… If anyone tries it before me, let me know on my Facebook page. Give it a like while you're there!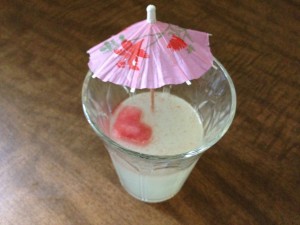 Finally, as promised, here are my heart shaped fruits and veggies!
Have a sweet day!