(If you missed Purim, Part 1, click here to read about easy, healthy ideas for mishloach manot.)
What if I told you that you could make an easy dinner using whole foods (everyone I know is on whole 30!), that feels fun, festive and takes 10 minutes? I kid you not… Speaking of kids, mine loved it! Score!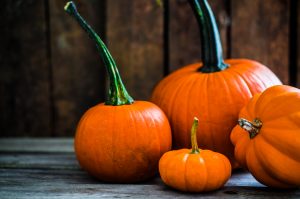 What is it? Pumpkin chili and gorgeous fruit and veggie platters.  Yes, we know the veggie platters are my shtick. That's because they work. Who wouldn't be excited by a gorgeous assortment of colors, textures and shapes?
This book is a great example! Click here to buy The Fully Raw Diet by Kristina Carrillo-Bucaram for yourself or a loved one.
Note – if you are looking at this in your email inbox, you might not be able to see some images. View the post online for a full view.
Before I get to the Pumpkin Chili recipe, I must show you the fruit and veggie platters I had the pleasure of making this weekend. You can use the ideas for your Purim Seudah or any other fun and festive meal. Your kids can put the raw fruits and veggies together while you make the Pumpkin Chili.
For Purim, just replace the name on the fruit platter with P-U-R-I-M using letter cookie cutters. You could even cut out the watermelon letters in Hebrew if you have the alef bet cookie cuttters (which, apparently, many of my friends do!). You don't have to make watermelon letters. Honeydew and Cantaloupe would also work.
The photos (above and below) were all taken by the fabulous Paola Yaeli Marino. She's only in Dc for a few more months, so catch her now if you want amazing photos! (marino.paola@gmail.com, instagram: instagirlinstatheworld)
Here come the veggies…See below for a few photos that I actually took with my phone. The cucumber pops I put in the oversized martini glass were GONE! I should have put two cucumber cubes on to look like olives in a martini…ooh, have to remember that next time!
[As an aside, I don't have time to watermark all of these photos with www.healthyfamilyhealthyyou.com so please don't steal them. Only use with permission and attribution!]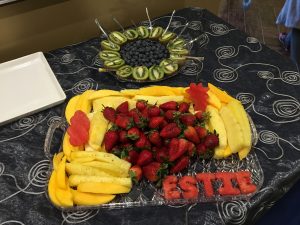 Drumroll…Here is the Pumpkin Pantry Chili you've been waiting for. Vegan, healthy, easy, out of the pantry chili. You cannot beat this for easy and healthy chili!
Print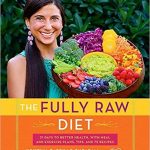 Pumpkin Pantry Chili (Easy, healthy, vegan, three bean chili)
---
Description
This is a hearty pantry meal full of whole foods and flavor. It is quick, easy and healthful and your kids will love it!
---
1

15.5 oz can fire roasted tomatoes

1

15.5 oz can organic pureed pumpkin

1

15.5 oz can corn

1

15.5 oz can chickpeas (garbanzo beans)

1

15.5 oz can black beans

1

15.5 oz can kidney beans

1 teaspoon

garlic powder

1 teaspoon

onion powder

1 teaspoon

chili powder

1/4 teaspoon

sea salt
---
Instructions
Do not drain any cans. You will use all of the liquid in the chili.
Combine all ingredients in a soup pot on the stove.
Cook until boiling.
Turn off and serve immediately.
Prep Time:

5 mins

Cook Time:

10 mins

Category:

Main Meal, Pantry

Cuisine:

Latin
Happy Purim! Enjoy your healthy Seudah!