Hi, Friends. It has been too long since I last blogged. However, I have a lot in the pipeline that I hope will make up for it.
First up, check out my latest blog for the Israel Forever Foundation. Enjoy fresh figs in an easy and impressive way!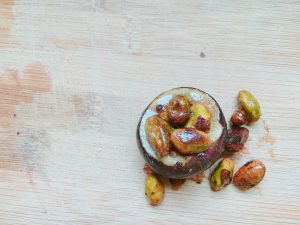 Live link: https://israelforever.org/israel/cooking/fun_with_figs/
Second, I want to share with you a very easy, basic recipe that you can do a lot with:
Step 1 – Decide if you are making Vegan Egg Salad or Vegan Tuna Salad
You can use this basic recipe (by www.thekitchengirl.com) of chickpeas, (vegan) mayo, dijon mustard, salt and pepper and leave it at that – more of an eggless egg salad (perfect for when you forget to boil eggs before Shabbat by the way!). You can also add dill, chopped celery and pickles, even capers, and call it vegan tuna! Kelp granules also helps give a fishy flavor to vegan tuna. I used it last week to make Vegan Tuna Casserole from Forks over Knives. For all you vegetarians out there who have fond memories of this from childhood but no longer eat fish, this is for you! It was the perfect hearty comfort food for the first days of Succos and is a great recipe to make through the winter.
Step 2 – Decide if you are making sandwiches or appetizers
You and/or your kids can have a great time making this into little appetizers or sandwiches.
See an example appetizer here: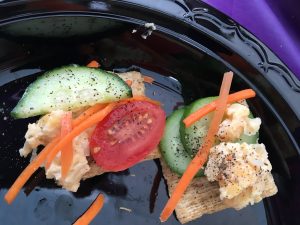 Sandwiches can be open or closed face, topped with sprouts, shredded carrots, lettuce and tomato.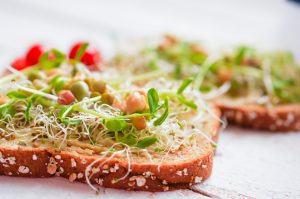 This is also an awesome 15 minute meal or school lunch, any time of the week or year.
Enjoy!
p.s. I was going to tell you about my upcoming workshop for PJ Library and Jewish Food Experience at the Bender JCC. "Snacks with your Sweeties." Hands on parent/adult and child cooking. However, it is SOLD OUT! If you have an arena in which you'd like to host something like that (for more information about the types of events I do, see my events page and/or be in touch with me at natasha@healthyfamilyhealthyyou.com), please do let me know by phone, email or Facebook.