This post contains affiliate links.
T minus 1 day until Shavuot started, my Mexican feast totally planned and shopped for…then I realized that I'd invited someone to lunch who happens to be from Mexico. By then I couldn't make a whole new menu. Besides, I love Mexican food and I wanted to eat it! My guest was quite gracious in insisting that I did just fine but he did inform me that in Mexico tacos are actually made with soft tortillas. The closest thing they have to what we consider a taco is a tostada. The good news is that I was just trying to make a delicious menu and not a completely authentic one!
Here is the complete menu, for your copying pleasure, along with the recipes, resources and shortcuts that I used. The point is healthy and delicious, not to kill yourself in the kitchen.
Soup
Gazpacho (Super fresh and tasted homemade, but purchased from Goldberg's Bagels in Potomac)
Salads
Roasted Corn, Pineapple and Black Bean Salad (Click for link to cooking.com recipe)
Jicama Mango salad. I got the idea from a Kimberly Snyder recipe from The Beauty Detox Foods that called for papaya, basil and dill. See my recipe at the bottom of this post.
Main Dish
Taco "meat" made with walnuts. I used the recipe from Kimberly Snyder's "The Beauty Detox Foods" book. I don't have permission to reprint her exact recipe. However, if you grind raw walnuts in the food processor (to the consistency of ground meat) and add taco seasoning (make your own or buy a pre-made spice mix without additives or too much salt), you'll get a pretty similar result. My guests loved it and they are not people who normally skip red meat! It's actually kind of creepy how similar it tastes and feels to ground beef (minus the gross parts anyway).
Taco fixings: Garden of Eatin' organic blue corn taco shells with Wholly Guacamole taco bean dip and guacamole, Wholly Salsa regular mild salsa and roasted tomato medium salsa. Tofutti and regular sour cream (If I'd had more time I could have made a healthier alternative to the processed store-bought non-dairy sour cream. Alas, I did not.) Shredded lettuce (purchased already shredded!).
Dessert
Freshly cut watermelon (When desperate, feel free to buy overpriced already cut watermelon. Better yet, ask a guest to bring it already cut up).
Non-dairy cheesecake. I used an organic graham cracker crust. Because it only made enough filling to fill it half way, I took the top of the crust and used it to dust the top of the cheesecake and served it with fresh blueberries, raspberries and non-dairy whip. Here is the filling recipe by Paul Jarvis that I found on Kris Carr's website: Blend 2 cups raw cashews (soaked, rinsed and drained), juice of 1.5 lemons, 1/4 cup maple syrup, and 2 teaspoons vanilla extract. Pour into crust and freeze for at least 1 hour. Was that easy or what?
Jicama Mango Salad Recipe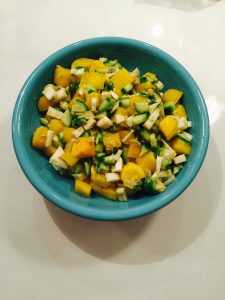 Serves 6-8
Ingredients
1 medium jicama
1 avocado
1 mango
3 small kirby cucumbers
1 organic lime, juice and zest
Directions
Peel and dice jicama, avocado, mango and cucumber. Add zest and juice of 1 lime and mix.
Easy, right? Let me know how it turns out!