It might seem like a strange time of year to be giving you a vegan chili recipe. However, it is a classic that I've been providing to those looking to build their plant-based repertoire for years. "Robyn's Chili" is tried and true, beloved by all.
By the way, this vegan chili is called Robyn's Chili because I first ate it at my friend Robyn's house, a long-time vegetarian (and amazing friend!).
This vegan chili can go very well with a summer barbecue, either as a complete and filling vegan meal, or to make a chili dog (vegan dog or not) .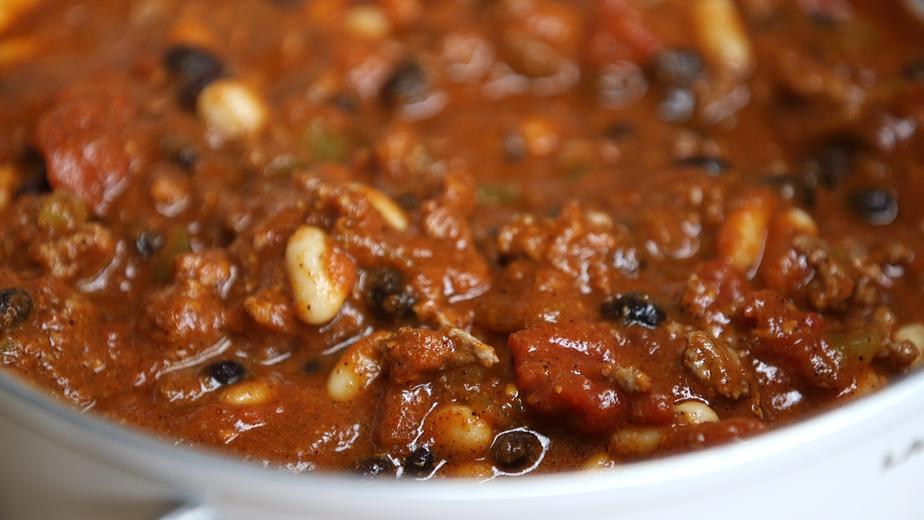 If all else fails, let your kids turn this vegan chili into healthy(er) nachos.
Kids love to decorate their food with toppings. They can add sour cream, chips, diced avocado, and shredded cheese (I use vegan sour cream and cheese, but you can use whatever works for your family.)
Best of all, this vegan chili is a one-pot meal. Many of us are experiencing decision fatigue, especially while we balance ever-changing boundaries, work, and now a summer that has been cancelled. With this satisfying, protein-rich dish, it won't feel like there is any meat missing in your meal.
What isn't protein is vegetables, and the protein (beans) COUNT as vegetables. The vegetables in the vegan chili include cooked tomatoes, which have been shown to protect against cancer, high blood pressure and obesity. Add a green salad and a small toppings bar to your one-pot vegan chili meal and dinner is served.
Print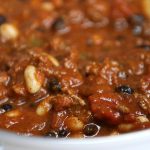 Robyn's Vegan Chili
---
Author:

Natasha Nadel

Total Time:

30 minutes

Yield:

8 servings

Diet:

Vegan
Description
This is the first recipe I give people looking to EAT MORE PLANTS. Whether you're exploring Meatless Mondays, trying to increase your plant-based repertoire, or looking to go full-fledged vegan, this is an easy, delicious and nutritious stand-by.
You can make this quickly on the stove top or, for a deeper flavor, you can use your slow cooker (crockpot) 4-5 hours during the week or overnight on shabbat.
---
●        1 Tablespoon olive oil
●        1 cup chopped onion
●        [I don't use the above. Instead, I warm up the Dorot brand of frozen sautéed onions. It's like the garlic cubes, but larger cubes and saves you so much time and effort! I purchase them at Shalom's. If you use the cubes, skip adding in your own oil].
●        1 cup chopped red bell pepper
●        1 clove garlic, minced
●        1 can crushed tomatoes (28 ounces)
●        1 15.5 oz can corn
●        1 15.5 oz can chickpeas (garbanzo beans)
●        1 15.5 oz can black beans
●        Optional: 1 15.5 oz can kidney beans
●        2 Tablespoons tomato paste
●        1 Tablespoon ground cumin
●        1 Tablespoon dried basil
●        1 Tablespoon chili powder
●        ¼ teaspoon black pepper
●        Salt to taste (taste at the end)
---
Instructions
Crockpot for weekday or Shabbat:
Heat oil in large skillet over high heat. Add onion, bell pepper, and garlic. Cook for about 5 minutes or until tender. [If using the frozen sautéed onion, skip this step and add everything to the slow cooker].
Add the sautéed onion, garlic and bell pepper to your slow cooker. Then add tomatoes, beans, chickpeas, corn, tomato paste, cumin, basil, chili powder and black pepper. Mix well. Cover. Cook on low 4 to 5 hours or leave overnight for Shabbat.
Quick stovetop cooking:
For cooking quickly, heat oil in a soup pot on the stove. Saute the onion, garlic and pepper. Cook for about 5 minutes or until tender.
Add rest of the ingredients and cook until boiling. Simmer 10 minutes.
Turn off and serve.
Notes
Make it more fun with a toppings bar: (vegan) sour cream and cheese; tortilla chips; diced avocado
Prep Time:

10 minutes

Cook Time:

20 minutes

Category:

One pot meal, vegan, vegetarian

Method:

Stovetop or Slow Cooker

Cuisine:

American, Tex-Mex, Vegan, Vegetarian
Keywords: vegetarian chili, vegan chili, one pot meal, slow cooker chili, slow cooker/Crockpot for Shabbat