And…we're back! Welcome back to the insanity that is Passover (Pesach) preparation!
Last week I gave you
Click here for past years' Passover posts for recipes and other ideas for staying healthy over an 8 day (Is that all? It really feels longer!) holiday.
Here is a great photo and link to a brilliant pesach recipe!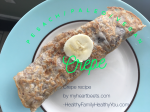 For this week…Click the links below to see the Passover Preparation Printables I have for you.
I'm really good at event planning and I'm really good at holiday planning. Why? Just like in my every day life, I am a crazy list maker. Ask my husband. I have lists of lists! But, you know what? It works. With approximately 8 extra special meals (not to mention all the other ones in between!) in 8 days, I couldn't do it without my lists.
I must admit that I am also good at it from sheer repetition! Thanksgiving, Shmanksgiving. Ask any observant Jew how ridiculous the hullaboo around planning that holiday is… Every week our Sabbath (Shabbat) is Thanksgiving for us! In fact, Thanksgiving is easier because the traditional dishes are established. You don't have to reinvent the wheel. Then we have four major holidays year round – all of which require multiple festive meals. You get the picture.
While the below formats can absolutely be used for both everyday meal planning and every holiday planning, I use these specific excel spreadsheets for Passover. I have another one I use for Shavuos, Rosh Hashanah, Succos, etc… If you want to plan for a Jewish holiday, I'm your woman. Of course my ideas and resources can be used for any big meals-no need to be Jewish or observant.
Don't let the term "excel spreadsheets" scare you! You'll have to set up the formatting to print based on what you fill in to the docs, but that is all the excel skill that is needed for these Passover Printables. I love having last year's Passover Grocery List so that I'm not starting from scratch every year. There are a lot of basics that are just givens every year. You'll notice that not everything on the list is plant-based or healthy. It's a comprehensive list that covers a lot of immediate and extended family members and not just me!
Please let me know how these work for you and share with the other Healthy Mamas on my Facebook page.
Happy list making!