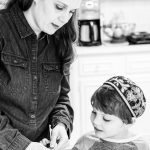 I am a firm believer in playing with your food! Yes, really. My aunt taught me from an early age that cauliflower is boiled brains and baked apples are shrunken heads. Whatever works! Have fun. Find fun shapes and make fun shapes and little people. You can always find new ways to make fruits and vegetables fun for kids AND grown-ups.
Click here for tools to both have fun with your food and feed your family well. I invite you to explore Jews Eat Veggies for healthy recipes your family will love. Click here to learn more about the workshops I give in the community for children, parents, grandparents, and any combination of the above.
See below for previous blog posts that help you play with your food, have fun, and eat well as a family.